Skip Navigation
Website Accessibility
April News from Woolkeeper
April News From Woolkeeper 4-19-15
Heart Rug Mugs by Designs in Wool



Rug Hooking Gathering
A rug "hook-in" will be meeting Friday, May 1st from 10-2. I'll be working on these heart rug mugs by Mary Johnson from Designs in Wool. This is not an instructional class, but a gathering of rug hookers and those that want to learn how to hook. I have reserved the classroom for the first Friday of each month. The cost for the room is $10 a month to be split evenly by the number of hookers who attend that month. We will meet at Prairie Stitches Quilt Shoppe. 72 Main St. Oswego, Il. at 10 and then go over to the classroom. Hope to see you then!


Tuesday Night Stitchers
5pm-8pm Beginning May 5th
Every Tuesday Night--Cost $5.00 a session in the Woolkeeper's Jar. Bring whatever you want to work on that night; wool applique, embroidery, punch needle, rug hooking, cross stitch, or any other handwork. You can just sit and chat with quilters and stitchers. Bring your project in and share time with friends.
Completion of New Banner Series Classes
$5.00 per session--Purchase of banner kit is required for class. 10am-3pm
May 16th--Sept. Banner

Bushel and A Peck
Pattern and Kit $31.50
Pattern $9


June 20th--Oct. Banner
July 18th--Nov. Banner
Aug. 15th--Dec. Banner
Home Sweet Home Needle Case Class
June 6th 10am to 3
Class Cost $20.00--Purchase of Needle Case kit and pattern for $33.50 is required for class.

June 6th Class Has Filled and is Closed. Waiting List and Sign Up For Possible Class Repeat is Available. Contact me at woolkeeper@comcast.net or put your name on the wait/interested list at Prairie Stitches Quilt Shoppe.

6 labeled pages in case , plus 1 pocket and place for needle threader.

New Patterns and Kits
Follow the Sun
Pattern and Kit $24
Pattern $9


A beautiful blue wool is used for the background and backing on this August Sunflower 6" x 12" Banner. Very interesting Multi-colored textured wool is used for the center of the sunflower. A variety of mill and hand dyed wools comprise the flower petals. All wool backing included.

Here's the Scoop
Pattern and Kit $29
Pattern $9


This 11" mat features refreshing ice cream cones with beautiful bright and cheerful pastel hand dyed woolens. All wool backing is included.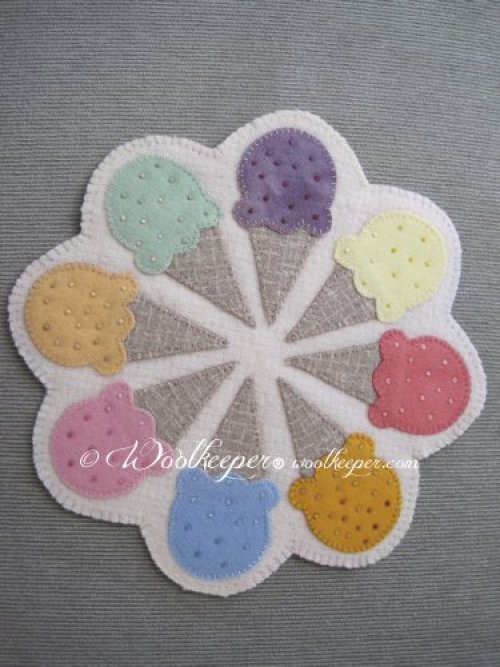 What's Up Doc
Pattern & Kit $36.75
Pattern $9


Eight chunky bunnies, four with carrots, go around this mat. The bunnies are hand dyed woolens in gorgeous spring colors. Shepherd's Silk thread is included in the kit for their noses along with optional ribbon ties. All wool backing included.

Sugar Cookies
Pattern and Kit $24
Pattern $ 9
Three beaded, wool Sugar Cookie Christmas Ornaments are featured in this kit. The wool "Frostings" are beautiful hand dyed wools. Beads for each ornament are included in the kit. Ho-Ho-Ho!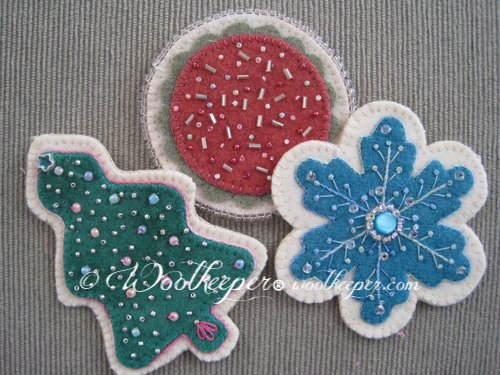 Hope you can stop by Woolkeeper's Corner and see all the new beautiful Wool in delightful Spring colors!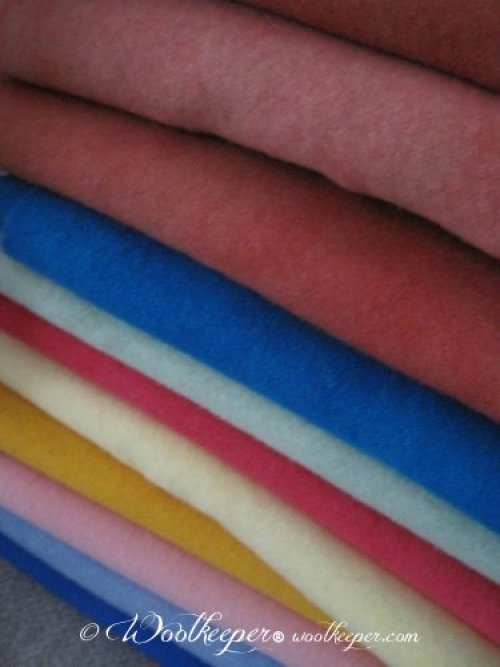 Would love to have you visit my blog.woolkeeperblog.com

Wishing you the comfort and joy of wool, needle and thread,
Kathy