Skip Navigation
Website Accessibility
September Notes from Woolkeeper - 9-1-14


It's Coming! Fall is on the way. The fall season is my favorite time of year. To me the colors of autumn are breathtaking.




So many beautiful fall wools and more Valdani threads have arrived at Woolkeeper. My Bit is checking out the wool colors.




Valdani thread is no longer listed on Woolkeeper's site, but a whole chest of thread is available in the Corner. This chest is stocked full of thread! If there is a color number you are interested in, but you can't come to the store, drop me an email and I'll send it to you.


New Kits from other designers

Woolkeeper has 2 Maggie Bonanomi patterns with kits. One is Turkey Lurkey! I kitted this design and added the thankful message on the back. Pattern and kit $38.00



Never too early to get ready for Christmas. Maggie Bonanomi's Holiday Basket is available in a kit compiled by Blackberry Primitives with their luscious hand dyed wool. I've made an optional wool backing for this kit if you like. Pattern and Kit $60.00




Fancey Blackett Prize Sunflower Wool Applique by Wendy Sys-Van Eimeren from Pineberry Lane.
This all wool whimsical pillow or pin keep is a fun and quick project. Fancey has her initials on the pattern. I substituted my own and you can too. Thread, yarn for hair, and buttons included in kit. Pattern and Kit $23.00

Upcoming classes I'll be hosting at Prairie Stitches Quilt Shop
Banner of the Month Series
This series will meet once a month, on the second Sunday of the month, from 12:00- 3:00. If you commit with a credit card number to the twelve months of kits, the class fee will only be $5 paid in 2 payments, each for 6 months. The kits will be priced between $20.00 and $30.00. You can attend individual classes for $18.00 a session. The first banner is Starry, Starry Night. Kit including pattern is $28.00. Sign up at Prairie Stitches Quilt Shoppe, 72 Main St. Oswego, Il. Phone 630- 554-9701


Colonial Knots-Any Interest?
If you are interested in coming to this group, please sign up by this Wednesday, September 3rd. If there is no interest, I'll schedule another group or class in this time slot that woolies may enjoy. If you can't come to the first gathering on the 6th, but want to come throughout the year, please drop me an email and I'll keep the time slot available if enough woolies want it.
Our first gathering is scheduled to be on Saturday, September 6th, 2014. We will meet the first Saturday of each month from 10 a.m. – 2 p.m. I'll demonstrate a stitch or technique each month and then we can get to our works in progress. Bring your lunch or take a break out for a bite. Cost is $10 a session. Sign up required at Prairie Stitches Quilt Shop. 630-554-9701

Tuesday Night Stitchers
We stitchers meet every Tuesday night at Prairie Stitches Quilt Shop, officially from 6pm-8pm. I'm in the Woolkeeper's Corner earlier than 6 on Tuesday afternoons. Come on by and bring whatever kind of handwork you want to work on that night or just come and sit a bit. This is a fun group of stitchers. We have a great time! Show and Tell always welcome. Cost- $5 a session in the Woolkeeper's Jar.

Christmas Table Mat Kit and Class
This class is definitely a go! Come Join the Fun!
The kits for the Christmas Memories Table Mat by Brandywine Designs are ready. The mat is a generous 21" and full of many gorgeous wool selections and embellishments. I added several buttons and threads for the bows for more embellishment fun. Wool backing is included in the kit.
Classes will be Saturday September 27th and a follow up on Saturday November 29th from 10-2 if you want the time to finish the mat. We can stitch until the shop closes. Kit and pattern required for class. Sign up at Prairie Stitches Quilt Shoppe, 72 Main St. Oswego, Il. Phone 630-554-9701
Cost for both class sessions $28.00
Kit and pattern total is $72.00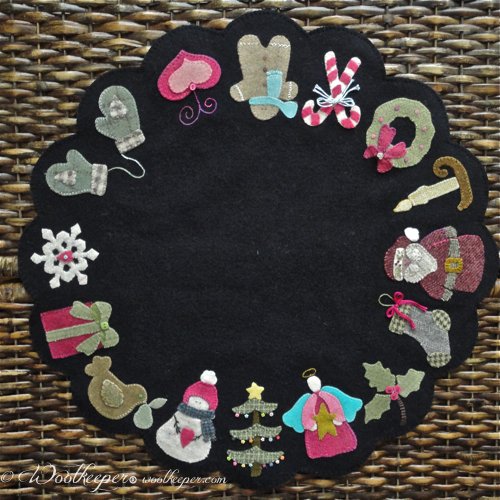 This and That
I'm excited about these new needles from Tulip. I love them! They glide through wool so effortlessly. The packaging is lovely, too. A cute corked mini tube is inside the package for storing the needles. Chenille #24 is available in Woolkeeper's Corner.



Wishing you the comfort and joy of wool, needle and thread,
Kathy