Skip Navigation
Website Accessibility
Snippets from the Corner

It has been a very, very, busy 2 weeks at Woolkeeper. A good busy though, filled with friends, stitching time with other woolies and lots and lots of wool.
Woolkeeper's Corner is stocked with bundles of fall and holiday wool. The bundles of fat sixteenths include three 6 ½" x 16" pieces for $10.50.
In addition there are bundles from Blackberry Primitives that will be perfect for your fall or holiday projects. Each of these bundles has 10 different colors and textures, approximately 7" x 8" for $28.00.


I put almost 500 new balls of Valdani Pearl Cotton # 12 thread in the thread chest this past week. Come check out all the gorgeous colors. More is on the way.


Christmas Table Mat Kit and Class
The kits for the Christmas Memories Table Mat by Brandywine Designs are ready. The mat is a generous 21" and full of many gorgeous wool selections and embellishments. I added many buttons and threads for the bows for more embellishment fun. Wool backing is included in the kit.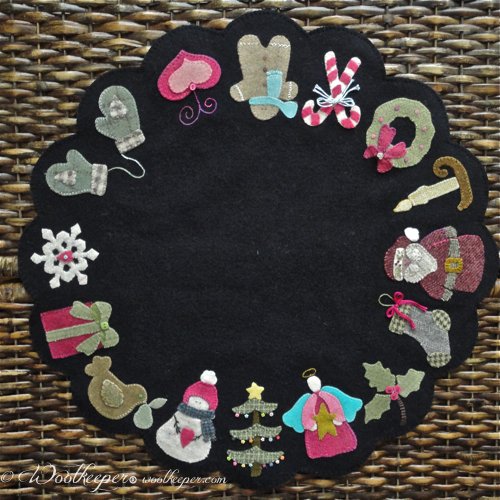 Classes will be Saturday September 27th and a follow up on Saturday November 29th from 10-2 if you want the time to finish the mat. We can stitch until the shop closes. Kit and pattern required for class. Sign up at Prairie Stitches Quilt Shoppe, 72 Main St. Oswego, Il. Phone 630-554-9701
Cost for both class sessions $28.00
Kit and pattern total is $72.00


Banner of the Month Series Update
This series will meet once a month, on the second Sunday of the month, from 12:00- 3:00. If you commit with a credit card number to the twelve months of kits, the class fee will only be $5 paid in 2 payments, each for 6 months. The kits will be priced between $20.00 and $30.00.

You can attend individual classes for $18.00 a session.
The first banner is Starry, Starry Night. Kit including pattern is $28.00
Sign up at Prairie Stitches Quilt Shoppe, 72 Main St. Oswego, Il. Phone 630- 554-9701


Gatherings

Tuesday Night Stitchers

We stitchers meet every Tuesday night at Prairie Stitches Quilt Shop from 6pm-8pm. Bring whatever kind of handwork you want to work on that night or just come and sit a bit. Cost- $5 a session in the Woolkeeper's Jar.
Colonial Knots
Our first gathering will be on Saturday, September 6th, 2014. We will meet the first Saturday of each month from 10 a.m. – 2 p.m. I'll demonstrate a stitch or technique each month and then we can get to our works in progress. Bring your lunch or take a break out for a bite. Cost is $10 a session. Sign up required at Prairie Stitches Quilt Shop. 630-554-9701
This and That
Woolkeeper's Corner is stocking a variety of Chenille # 24 needles and needle threaders. If you have a favorite one that is not in the corner let me know and I'll try to get them for you. Also, I have a new chubby marking crayon by Miracle Chalk. It's great on medium to dark wools. Marks are easily removed with a steam iron.
You'll want to check out the perfect carry along stitch reference guide by Janice Vaine. The most used stitches with excellent illustrations and directions are in this handy 4" x 6" guide. At only $8.50 they have been very popular.




Wishing you the comfort and joy of working with wool, needle and thread!
Kathy