Skip Navigation
Website Accessibility
Woolkeeper Newsletter #3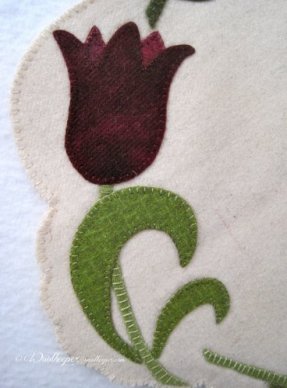 Hi Everyone!

Since winter doesn't seem to want to leave, I decided to put some Spring Things on the site, Woolkeeper.com. Check out the What's New section to see the first spring offerings. Meet Mrs. Fluffles, a bunny pin keep with a pink button nose. If you're dreaming of spring flowers, Spring Blossoms is a floral applique keep with embroidered embellishment. Laurel Spring Splendor is a 13
½
" x 16" all wool applique mat featuring purple tulips with a crown of laurel leaves. It is the first in a seasonal series of 4 mats incorporating laurel leaves in the design.
In celebration of National Quilting Day, Prairie Stitches Quilt Shoppe is doing an international fabric exchange of 10" polka dot squares. Check out their site under Events and then their Newsletters to get the details on the exchange and how to participate. It is a pretty awesome and fun undertaking by the owners, Kim and Susan. I have turned in my squares and can't wait to start receiving polka dot squares in the mail from who knows where. I made polka dot pins to celebrate the exchange. You can find them on the Woolkeeper site under needfuls-pin collections #13 & #14.
Woolkeeper has ventured into the world of blogging. You can find my blog at www.woolkeeperblog.com. I will be sharing all things "woolie" and "quilty" along with Woolkeeper news.
Thinking Spring Thoughts!


Kathy